Special Rozana Basmati Rice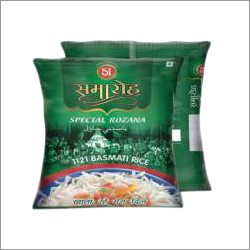 Special Rozana Basmati Rice
Product Description
We have gained extreme goodwill in the market for providing Special Rozana Basmati Rice. It contains minerals, vitamins, carbohydrates, fiber, proteins and less fat. The rice can be consumed by diabetic person and is good for the heart health owing to its high nutritional value. It is utilized for cooking various cuisines and giving them an excellent taste as well as fragrance. It can be cooked differently as per the requirement of the consumer. The Special Rozana Basmati Rice is processed in neatest surroundings for ensuring its safe consumption. It is packed in eye-catching packaging and timely delivered to clients.
Frequently Asked Questions:
1. What is rozana basmati rice?
Ans. Daawat rozana brilliant is the greatest basmati rice in the mid-charge section. It is specially processed for each day cooking throughout a multitude of everyday dishes, an ideal fit for everyday intake. Rozana extraordinary guarantees a candy taste and wealthy aroma as every grain is obviously aged.
2. Is rozana basmati rice true for biryani?
Ans. Rozana basmati rice has been perfectly aged making it non-sticky and fluffy whilst cooking. It is miles popularly used inside the guidance of pulao, kheer, biryani and different delectable dishes. Dishes may be cooked in just 15 mins the usage of this rice.
3. Which is excellent rice for each day's use?
Ans. Therefore, selecting entire-grain brown, pink, black, or wild rice is a splendid choice for health. Plus, those types are richer in sickness-combating antioxidants. Consuming a food plan high in antioxidant-wealthy ingredients can advantage health in lots of methods.